Airline: Royal Air Maroc
Launched: 2022
Elements: Catering • Comfort • Technology • Interior Design • Service/Crew
Royal Air Maroc made significant efforts to launch new initiatives in 2022 to enhance its offer and support the passengers' return to travel post-COVID.
Over the past year, Royal Air Maroc has undertaken an organisational transformation designed to support its development and growth in three key areas: commercial, customer experience, and transformation.
The reorganization was based on a 'customer-centric' approach to the entire customer experience and included the launch of a new brand platform developed to embody the best of Moroccan and African leadership, and express the airline's pride in its roots.
Key projects have included new uniforms, new in-flight catering and newly-designed cabin interiors, all introduced to provide customers with an unique and authentic Moroccan experience.
The airline was keen to showcase the cultural richness of Morocco and the African continent, and to provide a sense of pride in this heritage for both its staff and customers.
Service/crew
The new uniforms for ground and flight crew feature traditional Moroccan patterns and colours and are designed to reflect the airline's commitment to its Moroccan culture and heritage. The uniforms are a new visual signature for the airline, designed to be chic and elegant, and to convey the brand's culturally authentic values: reliability, proximity, optimism and ambition. By wearing them, the staff express with one common voice: "We are proud and we wear what we are. We are Moroccans and Africans, faithful to our cultures, living in our time". The uniforms are part of a professional welcome, reflecting the airline's commitment to high-quality customer service. The main amethyst colour is the brand's new signature colour, and is also used onboard aircraft and in airport signage.
Catering
Similarly, the new inflight catering options were also inspired by Moroccan cuisine, offering a unique and diverse range of flavours to passengers. In Business class, the culinary experience is offered through an à la carte service – a really qualitative leap in long-haul service standard. The 'All day' section of the menu gives access to hot or cold snacks throughout the flight and new Moroccan products with branded packaging include roasted almonds and mixed dry fruits; salted cookies; pure honey for breakfasts; chocolate squares with coffee; tchaba teas and infusions; coffee capsules in Business class and quality coffee in Economy class.
Lemonade with fresh mint is the new welcome drink and there is a new service of mint tea and Moroccan cakes. An orange blossom scented refreshing towel is also offered to passengers.
In Economy passengers have new sandwich options, muffins and yogurt boxes on short-haul flights and hot meals on medium and long haul flights. These have been upgraded with the introduction of white fish and salmon options and a third vegetarian choice.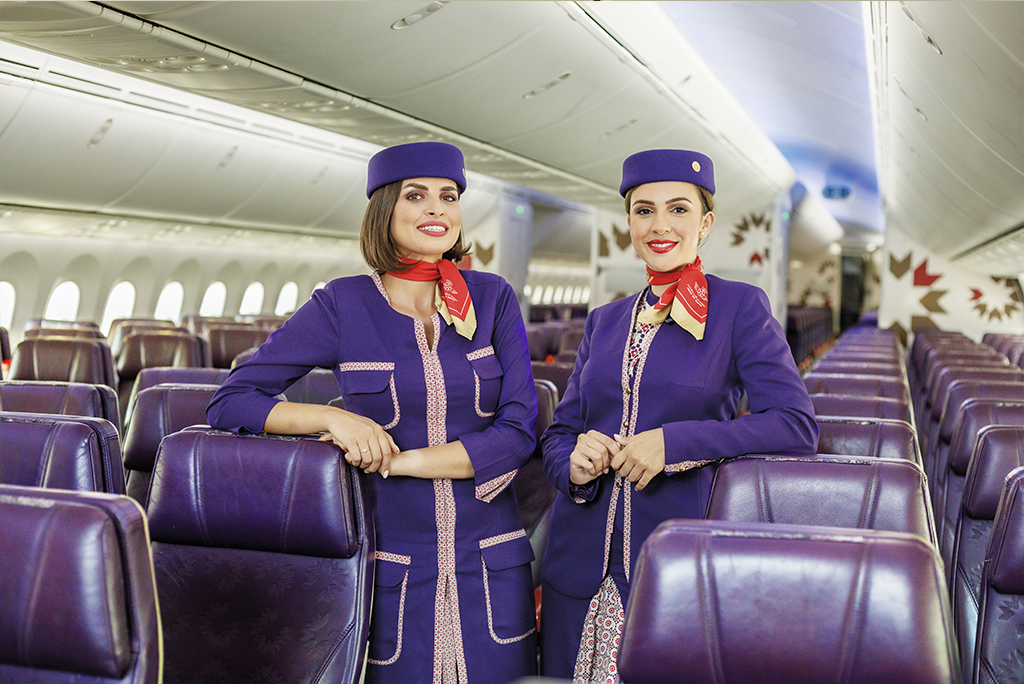 Interior design
The airline's new cabin interiors were designed to be brighter and provide a more harmonious atmosphere, drawing on Moroccan-inspired themes such as traditional Moroccan tiling. The cabin has been completely renovated and interior trims now feature the amethyst visual marker of the new uniforms, chosen as a colour evocative of refinement, calm and serenity. The design of the embossed leather seats recalls Moroccan craftsmanship and Kingdom's prestigious leather goods heritage, while mosaic chevrons, so specific to Moroccan culture, were chosen for the walls, carpets and seatbacks, to reflect the airline's ambition and dynamism. The seats themselves have been upgraded to add greater comfort and more user-friendly features, and ambient lighting ensures an inviting atmosphere.
In Business Class up-grades have been designed to match or surpass the best international benchmarks in terms of comfort and service, offering complete privacy and tranquility. Seats can be converted to a bed and personal lighting is all fully adjustable.
Comfort
Products chosen for Business Class are designed to make this travel experience one of the most privileged in the air. Presented in an elegant hand-woven linen pouch, the range of high-quality comfort products includes 100% natural care products, socks, and eye mask. Again the selection features local Moroccan products to help passengers get a flavour of the country.
Technology
The inflight entertainment programme has been enriched and now includes a new Sustainable Development channel which introduces passengers to the airline's goal to achieve carbon neutrality by 2050. This will be achieved through a Fuel Efficiency Program which integrates environmental priorities into the modernisation of both ground and inflight processes, as well as highlighting eco initiatives to reduce fuel consumption.
The system also now includes yoga videos taking passengers through some simple seated yoga exercises to support their inflight wellbeing.
These projects are all part of Royal Air Maroc's efforts to provide a unique and authentic Moroccan experience for its passengers. By focusing on cultural authenticity and customer-centric initiatives, the airline aims to successfully differentiated itself from competitors, while also providing passengers with an improved travel experience that showcases the richness of Moroccan and African culture.
All of these concepts demonstrate innovation and excellence in the airline's product offerings and showcase the airline's attention to detail and commitment to providing an exceptional, authentic and memorable travel experience.
Will Royal Air Maroc win Cabin Concept of the Year 2023? Join us in Hamburg on June 6 2023 as we unveil winners at the Onboard Hospitality Awards ceremony at the World Travel Catering & Onboard Services Expo (WTCE).