Airline: KLM Royal Dutch Airlines
Launched: August 2023
Elements: Catering • CSR • Comfort • Technology • Interior Design • Service/Crew
KLM is rolling out a newly-designed product and service concept for its new Premium Comfort Class
The new KLM Premium Comfort Class has been designed with the focus on passenger experience and sustainability across the entire cabin.
Positioned between the World Business Class and Economy Class, the new class was created around a design concept which focused on a distinghuised guest experience instead of only focusing on an improved product. It has been crafted to provide premium touches throughout the journey.
Offered on intercontinental KLM flights, the Premium Comfort Class targets both leisure and business travellers with improved space, privacy and plenty of added comforts in a dedicated cabin, at a competitive price.
The team looked not just at providing a great seat but also a premium food and beverage offer, amenities and personal service as well as a premium baggage allowance and airport privileges.
Before departure
The Premium Comfort Class experience begins at the airport, with a larger baggage allowance than Economy passengers and with SkyPriority's fly-through-the-airport services to help passengers board and reach their seats sooner. Premium Comfort passengers are entitled to two pieces of checked baggage weighing max. 23 kg each and two pieces of hand baggage and one accessory, combined weight max. 18 kg.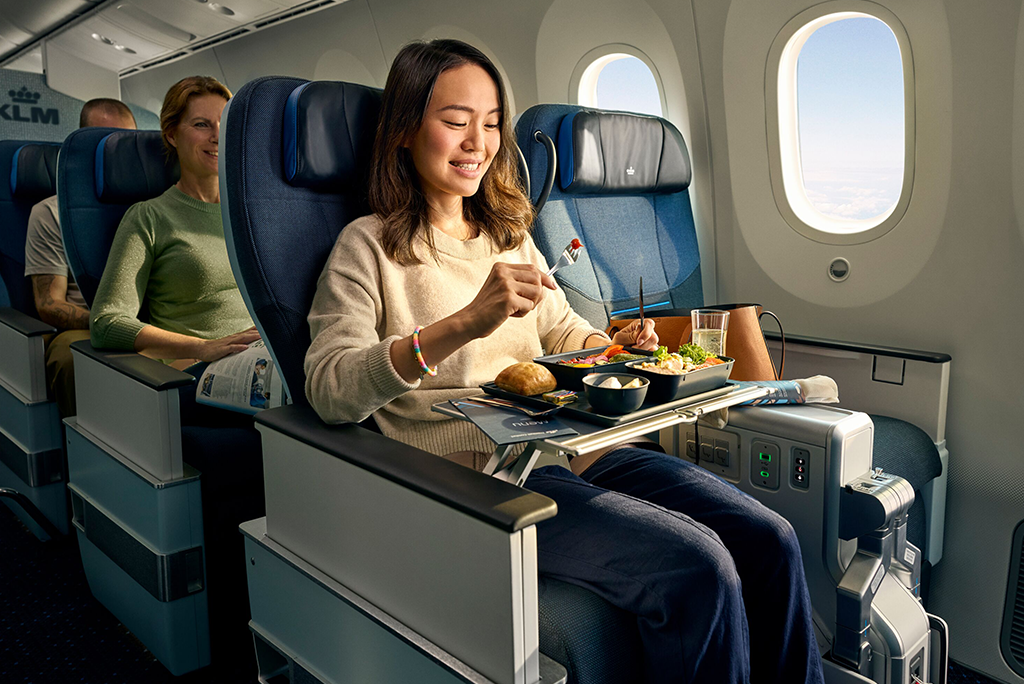 Dedicated cabin
Once onboard passengers are seated in a small and quiet, dedicated cabin comprised of three to four rows of seats for 21 – 28 people. These feature extra wide and redesigned seats with a 97 cm/38″ pitch and 20 cm/8″ recline. Each has a personal 13.3″ entertainment screen, noise-cancelling headset plus USB-A/C and 110 V power outlets. Once inflight, passengers are served a high-end and distinctive catering concept, with a choice of three meals, selected wines and liqueurs. They are also given a premium pillow and blanket, complimentary sustainable amenity kit, and extra personal attention from the crew.
Key to the concept for KLM was a design that combined very sustainable credentials and high-end offerings so this was address in each element of the cabin.
Interior design
The new Premium Comfort Class seats were designed in collaboration with Collins Aerospace with special attention to the new backrest design which is wider (for more privacy and comfort) and looks modern and appealing. In addition to their elegant design and comfort features, the seats are also lighter than previous models supporting the sustainability goal. They include a leg rest and were designed in-house in line with KLM's brand style.
Catering
The same care was taken when selecting catering items. All are either reusable (special cutlery, bowls and plates made of lightweight polypropylene) or, if not reusable, made of recycled PEF. All items were assessed in terms of circularity and weight without compromising on aesthetics. The cutlery chosen is of a light-weight stainless steel, glass is light-weight and the tableware is rotable. The meal trays are made of polypropylane which can be recycled to create new trays (closed loop). Lids used on hot meal dishes are made of bagasse, while any plastic lids are made of recycled plastic. Waste management systems ensure onboard recycling processes.
On intercontinental services, passengers will be served one or two hot meals, depending on the duration of the flight. The menu will consist mainly of dishes that have proved popular in World Business Class and passengers will always be offered a choice of meat, fish or vegetarian dishes. After the meal, passengers will be offered coffee, tea, a liqueur and ice cream. Between meals, they will be served a variety of snacks and cocktails.
A menu card, with its own design, details the three main dishes (one of which is cold) and gives information on sustainable choices. There is also an extensive complimentary beverage assortment with an exclusive cocktail (espresso martini in a tube bottle), three wine options, sparkling wine and spirits.
Comfort
Passengers in the new cabins receive a sustainable amenity kit made from recycled plastic. KLM is working with REPREVE® Our Ocean® to give 130,000 plastic bottles that wash up on beaches every year a new life in a range of products. The bag can be reused in a variety of ways, for example, to hold fruit and vegetables at the supermarket, or shoes and clothes when travelling. The bag can also be used to hold laundry in the washing machine, reducing the amount of micro-plastics that end up in waste water and the natural environment.
Sustainability was also an important factor when selecting the bag's contents. For example, the eye mask is made from recycled plastic and the earplugs are wrapped in paper not plastic, as are the Happy Tabs toothpaste tablets and the bamboo toothbrush by Bamboovement. The pen is made from wheat straw, an agricultural residue.
A business standard blanket and pillow with cotton pillowcase are also provided.
Service/crew
The crew has been specifically trained on KLM's vision for this new class. Online training gave background information about choices made for tableware, design, sustainability, passenger profile and service schedule. All services have been filmed and are available for crew to view in their app. Working methods are detailed in the MyFlight app on their iPads to support consistent service levels. A lower passenger-crew ratio is boarded (compared to Economy) to facilitate a more personal approach to Premium Comfort passengers
Technology
Noise cancelling headsets are provided to passengers using the 13,3 inch entertainment screen, and there are USB, USBC and 110V power outlets so they can charge their own devices. Wifi connectivity is available for free messaging.
Will KLM win Cabin Concept of the Year 2023? Join us in Hamburg on June 6 2023 as we unveil winners at the Onboard Hospitality Awards ceremony at the World Travel Catering & Onboard Services Expo (WTCE).