Chocolate proves to be top choice for dessert
November 18, 2020
According to Brits aged 16-64 years, chocolate is the top choice when it comes to flavours for desserts.
Caramel and coffee are also included within this group that Brioche Pasquier has coined 'rich' flavours. Surveying 1,938 consumers in August 2020, Brioche Pasquier has delved into the nation's beloved desserts, popular flavours, favourite occasions, and found where our sweet tooth reigns.
Cakes hit the top spot for 16-34-year olds with those 35+ preferring a cheesecake for their desserts. Following a main course is still the favourite time to eat a dessert, but revealing a new opportunity for businesses everywhere, the mini pudding with a hot drink (Café Gourmand) has started to creep into our sweet treat repertoire with 44% of respondents claiming to have chosen this option when out of home.
Matt Grenter, foodservice sales manager, Brioche Pasquier highlights the opportunity for the industry: "Our research confirms that people tend to go for desserts over the weekend and they generally follow a main course, however, what we've also seen is that there is an opportunity for a weekday treat with Café Gourmand increasing in popularity.
"Our chocolate ranges have always been amongst our most popular petits fours," explains Matthew. "So, for all the chocolate fans, our Petits Fours Élégance and Chocolat are just perfect. With a variety of mini cakes, each individual bite is rich with chocolate combined with other popular ingredients like praline, hazelnuts and like all Brioche Pasquier pâtisserie, its petits fours are made with fresh non-caged eggs, fresh butter and natural colourants and flavourings. They are vegetarian and are free from artificial colours and flavours, palm oil and preservatives."
Mince pies in the sky
November 18, 2020
Helicopter charter company Apollo Air Services has introduced mince pies to its flights this Christmas after research suggests that it could be one of the best inflight snacks due to its spicy and intense flavours.
It is suggested that once in the air, salt is 20%-30% less intense and sugar 15%-20% less due to high altitudes. However, fruity aromas, acids as well as spicy and intense flavours are far more stable with Apollo finding the optimum altitude to enjoy the UK's much loved treat is 3,800 feet for the best tasting mince piece.
To celebrate the mighty mince pie, Apollo Air Services has launched a "Mince Pie In The Sky" flight package for those wanting to beat the Christmas traffic and get home (or to a chosen festive location) in style and safety. The package is customisable to the passenger's chosen take off and drop off locations, and involves a number of yuletide additions including a Christmas hamper filled with mince pies and mulled wine, decorations in the cabin and (optional) Christmas songs on the sound system, for a fun and festive flight to get into the Christmas spirit, whilst soaring over the holiday traffic.
Soulful Food launches new range of wholesome meals
November 18, 2020
Soulful Food has launched PlantBox, a new range of convenient and nutritionally balanced 100% vegan meals.
Each meal promises a wholesome and mouth-watering experience by offering a nutritionally balanced mix of veggies, plant-based protein and complex carbohydrates.
Inspired by cuisines, spices and textures from across the globe, the meals are available in the following flavours: Thai Green Jackfruit Curry with Edamame & Kale, Vegan Butternut Mac with Kale and Seeds, Marinara Seitan Balls with Spaghetti and Fresh Spinach and Piri Piri Tofu Jambalaya with Jalapeño.
Healthy Indian breakfast range from Gudness
November 11, 2020
Gudness Foods offers Indian breakfast and snack products made from 100% natural ingredients.
Inspired by traditional Indian meals enjoyed by millions combined with British flavours, Gudness aims to deliver on taste, health and convenience, as well as being eco-friendly.
The firm says the range includes 'Upma', a savoury breakfast or snack with a unique texture, bursting with flavours from curry leaves, carrots and peas.
'Shira' is rich in flavours from saffron, cardamom and nuts, making for a sweeter offering.
The 'Mixed Berries' and 'Apple & Cinnamon' options are a natural extension of the Indian Porridge for the global palate.
New snack pack flavours from popcorn shed
November 11, 2020
Popcorn shed has extended its snack pack range with the addition of seven new flavours.
The new flavours include Vegan Butterscotch, Cherry Bakewell, Cookies & Cream, Birthday Cake, Rainbow and Goats Cheese.
Already in the range is Blue Cheese, Salted Caramel, Pop N Choc, Pecan Pie, Butterly Nuts, Berry-licious, Say Cheese! And Sweet Cheesus.
Each pack comes in at under 130 calories.
Le Must luxury condiments
November 4, 2020
Le Must offers a range of luxury, single-serve condiments – aiming to elevate fine dining and create a memorable experience.
All served in a glass jar, the range includes Classic Ketchup, Artisan Mayonnaise, French Tartare Sauce, Gourmet Yellow Mustard and Authentic Dijon Mustard.
The products are currently served in a number of luxury hotel chains in the U.S. and the Caribbean, including Ritz-Carlton, Waldorf Astoria, Four Seasons, JW Marriott, Park Hyatt and Conrad.
Earlier in 2020, Celebrity Cruises began to serve the condiments for its in-room dining. They are also served on over 120 private jets.
Antivrial gloves from Screenworks
November 4, 2020
Screenworks, through its burgeoning brand Bumpaa, has launched a new anti-viral gloves range.
Alongside keeping hands warm, the gloves are treated with ViralOff technology. This treatment is proven to reduce tested viruses (including the SARS-CoV-2 virus) by over 99% on the material in two hours.
Designed to protect the textiles from harbouring viruses or bacteria, ViralOff does not interfere with the skin's natural bacterial flora and lasts for the product's lifetime.
When the gloves are removed, if any virus or bacteria is present on the surface, it claims that 99% will be safely deactivated within a maximum of two hours. The gloves do not require regular washing. For best performance and sustainability, the products should be washed less, only when needed.
Duncan Gilmour, managing director at Screenworks, said: "Consistent wear of these antiviral gloves could help to reduce the spread of viruses, given there will be a lot less hand contact.
"Our Bumpaa range continues to go from strength to strength, and we're delighted to be bringing this new product to market. We have worked hard to source a sleek, high-quality glove, which will be perfect for the colder weather, combining comfort, warmth and safety. They are also touchscreen ready, which means they don't need to be taken on and off frequently – making them a practical answer to reducing the wearers exposure to the virus.
The gloves can be branded with corporate logos, with either a transfer print or embroidery on the rear of each glove.
Grassland Dairy joins DFMi portfolio
November 4, 2020
DFMi is now representing Grassland Dairy and its selection of butter products.
Founded in 1904 in Greenwood, Wisconsin, Grassland has made its name in the foodservice industry providing high-quality dairy products to the nation, while remaining a family-owned company.
Amongst its products are the Grassland Salted Whipped Cups, made with fresh, sweet cream resulting in Grade AA butter. With a light and fluffy texture for easy spreading, this butter is packaged in a handy plastic 5g portion cup, maximising convenience and health safety for passengers.
The Grassland Grade AA Salted and Unsalted Continental Chips are foil-wrapped, individual butter portions that it claims exhibits high-end characteristics. The individual packets allow for better portion control, reduce wasted product and allows for health and sanitation safety.
Mr Lee's Pure Foods launches new congee pots
October 28, 2020
Mr Lee's Pure Foods has launched a new congee range.
The savoury instant rice porridges feature two flavours: Original Congee Rice Porridge and Chicken Congee Rice Porridge
Mr Lee's congee is low in both sugar and fat and all-natural. The two different varieties are gluten-free and made with a blend of four styles of grains.
The Chicken Congee Rice Porridge flavour is made with pieces of 100% real chicken meat and the Original Congee Rice Porridge is vegan.
"We couldn't be happier to enter the convenience rice porridge sector. This launch allows us to bring our instant congee to the world in a healthy and convenient format," stated Damien Lee, CEO and founder of Mr Lee's Pure Foods.
"I grew up eating it, but typically it takes hours of cooking at home to make a perfect Congee. We've made it to be ready in just four minutes and in a convenient cup format. Our instant congee helps time-poor people eat better, perfect for those who lead hectic lifestyles."
Congee (also called konji, conjee, 粥, juk, jok and jook) is a traditional pan-Asian staple food recipe. The dish stands out for its versatility as it can be served in many different forms.
Hard seltzers from Long Shot
October 28, 2020
Long Shot Hard Seltzers offer a blend of fruit, sparkling water and alcohol.
Inspired by the U.S. trend which kick-started a multi-billion dollar industry, founders Hugo and George decided to quit their nine to five jobs and create their own hard seltzer – using only all-natural ingredients.
The brand aims to shake up the seltzer market by waving goodbye to sugar-packed canned cocktails and uninspiring flavours. It claims its range is revitalising and crisp, offering a fresh taste to the canned drinks market.
Long Shot's range all come in at less than 70 calories a can – and also ticks the vegan and gluten-free boxes.
Ready to drink straight from the can, they also offer a safer way to interact with customers – with fewer touch points and no need to mix different ingredients, which has proved popular with bars and restaurants in these strange times.
Classic cocktails from the Rested Cocktail Co.
October 28, 2020
The Rested Cocktail Co. offers a range of ready-to-drink cocktails in classic flavours including Rum Old Fashioned, Cold Brew Espresso Martini, Dry Gin Martini and Long Island Iced Tea.
Founded in 2014 in Derbyshire, The Rested Cocktail Co. quickly gained a reputation for producing premium, bar quality cocktails and has won six international awards.
Available in 70cl and 5cl bottles, the range is best served chilled or over ice.
Sustainable paperboard alternative to plastic food trays
October 21, 2020
Iggesund Paperboard's new Inverform for ready-made food packaging trays claims to tick all the boxes for sustainability and performance.
Made from pure cellulose fibres, Inverform has been specifically developed for pressed and folded trays used in food packaging. Inverform claims to have an exceptional formability and is the ideal replacement for traditional solutions, such as plastic trays.
"Iggesund Paperboard has a long tradition of working sustainably and producing material that won't harm the environment," says Stefan Söderberg, sales manager at, Iggesund Paperboard.
"Inverform was developed largely in response to the plastic pollution problem. We were determined to come up with a renewable and recyclable material for food trays that would be more environmentally friendly than plastic, while maintaining the same high packaging performance throughout the value chain."
Trays made of Inverform with a plastic barrier supposedly have a substantially lower carbon footprint than the common plastic tray and can be recycled in existing paper packaging recycling schemes. And, in addition to helping to lower the climate impact, Inverform packaging meets the highest standards for food hygiene and protection, ensuring longer life and less food waste.
Seaweed snacks from SHORE
October 21, 2020
SHORE offers a range of baked seaweed chips, made from seaweed harvested off the Scottish coast.
Seaweed is harvested and carefully washed before being dried a low temperature to preserve its natural goodness.
The all-natural seaweed chips are available in three flavours: Sweet Siracha, Asian Peking and Lightly Salted.
Available in 25g and 80g packets, the range is 100% plant based, free from artificial preservatives, flavours and MSG.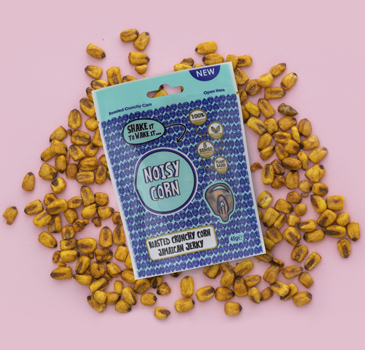 Snacks that make noise…
October 14, 2020
Noisy Snacks has a range of ready-to-eat snacks which it markets as a 'sensory adventure waiting to happen'.
It claims that 'noise' is its secret ingredient, because when the packet is shaken about the flavour is distributed amongst the product. The snacks have been designed to trigger an ASMR response (audio sensory meridian response), which elicits sensations of wellbeing.
The range includes 12 flavours and options, including Jamaican Jerky flavoured Noisy Corn, Beef Brisket flavoured Noisy Bean Chips, Sweet Thai flavoured Noisy Nuts and Piri Piri Mango flavoured Noisy Chickpeas, all offered in 100% recyclable packaging.