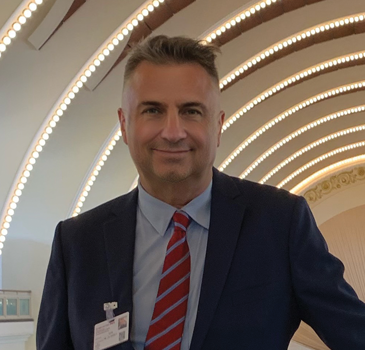 Airlines can lead the way
Look to new manufacturers in China and airlines can find affordable eco options available now, insists Malton Inflight's ceo Gordon Oakley
We have reached a tipping point on eco- friendly materials which means the issue of cost can no longer be an excuse or a barrier. Prices are falling and if airlines don't move towards eco products now, they're not really trying.
From my base in Shanghai I see it clearly. Big investors are now supporting environmental change by developing the products and materials needed fast. I am personally working on a big development for an industrial park which will have 15-20 factories jsut outside Shanghai, all focused on producing sustainable materials and products for the aviation sector. The ultimate goal is for 50 such manufacturers across China.
Chinese momentum
The Chinese see what is coming and want to move away from plastics to eco products fast. They are supporting technical colleges and R&D in materials because they understand the future.
It is simply false to say the Chinese are backwards with regards eco products, they are in transition but it is happening fast. Once the Chinese government commits to something it does happen fast and it has committed to this. It is now happening at every level.
Aviation led
Aviation products are being given a priority in this development because the government and the investors see that airlines are the shop window on to world of eco products, they are
a way into worldwide markets. As a result critical mass is building to get the products flying, and the first 10-15 airlines to move this way while Chinese investors are actively supporting growth will get superb prices.
In 2003, Malton Inflight started a Back to Earth range. Noone cared much, it was four or five times more expensive and airlines just said forget it. Nowthere is the will, consumer pressiure and the business models to make it happen.
Just make a start
Airlines can play a very positive role in showing what is possible and what is out there. They just have to start, that's the important thing. Turkish Airlines recently switched to using biodegraable bags for earphones. It sounds a small thing but that cut 70-80 million pieces of single use plastic out of the supply chain. That feels good to everyone. Make a start and things can change and that is truly heartwarming.
Find industry-wide solutions
New IFSA president, James Ball of Flying Food Group, turns the spotlight on industry collaboration.
Thee year ahead is going to be challenging and my goal is to continue the great work already underway at IFSA to increase membership value and promote active membership participation.
The mission is to help the industry navigate through the challenges it faces, to be the voice of the industry, grow international engagement and ensure we are strongly represented in government affairs.
It has been a long time, for example, since the industry had to face such a big issue as the ban on single-use plastics. It's a big change and there are no easy solutions, but as the trade association, IFSA can be the focal point, pulling together expertise and helping to find answers. Initiatives were discussed in L.A and we were also pleased IFSA's executive director, Lauren Costello, could join the sustainability debate at FTE-APEX Asia EXPO in Singapore.
The educational side to IFSA's activities are also increasingly important as a way to share best practice among members so we can learn from each other.
Working together
The alignment of IFSA with APEX is very positive and enables us to grow our conference activities and EXPOs to provide more thought leadership and more opportunities to share best practice. While we do so much today electronically, there is still a need and great advantage to sometimes coming together face to face, especially when we are all working on similar problems and working on complex issues. On such issues competitors accept they need to get together and find industry-wide solutions to global problems that affect both airlines and suppliers.
Looking ahead
For this reason, next year in San Diego, California, the IFSA/APEX Expo will include more speaker sessions, educational presentations and targeted roundtable debates designed to encourage further understanding and debate across the industry.
This year's sessions were of a significantly higher level and relevance to what we have done before and this will continue as we encourage more airline CEOs from beyond the region to attend as well as more key caterers. We fully understand that costs and other commitments can make it hard to attend but our role will be to help demonstrate the value of IFSA and ensure our are 'must-attend' events.
Catering sustainably forward together
Fabio Gamba, the managing director of the Airline Catering Association (ACA), details his two-pronged approach for a greener future.
A paradigm shift has put the environment at the top of the agenda. From movements such as #FridaysForFuture to the most recent EU directive banning single-use plastics, the issue of sustainability cannot be ignored.
ACA welcomes the single-use plastics ban, though this and other legislation often does not address our industry-specific needs, such as the international regulations preventing airline waste being recycled or reused.
It is in all of our interests to find a sustainable way forward to reduce waste while avoiding negative side-effects such as increased emissions due to a weight increase.
Teaming up
The inflight catering industry is committed to taking action towards becoming more sustainable. Rather than reinventing the wheel, we are discussing with a number of trade bodies – Airport Council International (ACI) and Air Transport Action Group (ATAG) among others – to understand how inflight catering can join forces with current programmes. The commitment to reduce CO2 emissions in 2050 to half of 2005's total, is both ambitious and widely accepted as an important milestone for the transformation of the industry.
Caterers operate a significant number of vehicles, so we definitely can contribute.
Welcome change
Inflight catering straddles different industries and sectors, such as transport and food, so there are many ways we can go beyond cutting C02.
To this effect, we are forming a think-tank composed of major stakeholders worldwide around the concept of the 'farm to fork' value chain and how to streamline it. That includes plastics use, along with factors, such as the greenhouse gases emitted by our high loaders, the chemical products we use for washing, and cabin waste. We are organising a kick-off meeting on February 4-5, 2020 in Brussels, and anyone with inflight catering expertise is more than welcome.
Looking forward
ACA and its members have an important role to play in driving sustainability but we should not overlook the fact that this industry commitment is relatively recent. Long overdue perhaps, but ACA has been created a year ago precisely with that in mind.
Our aim is to be the trusted partner of choice
This year WESSCO marks 40 years in the business. Petros Sakkis, cmo, looks back as the amenities specialist gets set for the future.
We're excited to be marking our 40th anniversary at this year's IFSA/APEX Expo in Los Angeles and look forward to seeing our many friends and contacts come visit us in our home base of L.A..
It was here that Bob Bregman founded WESSCO in 1979, naming the company after the telex abbreviation for West Side Supplies Company. Initially, we supplied hotels, but with Bob having served in the U.S. Air Force, the company quickly set its sights on airlines. The first airline order came from Western Airlines in 1979 for 1,500 coffee pots. The next significant move into amenities was spearheaded by Sharon DeHerder and Anita Gittelson who joined in 1987.
Many of our clients have been with us from the start, and we've grown with them. Our aim has always been to be their 'trusted partner of choice'.
Common problems
We've had to foresee our customers' challenges as the industry evolved. These include increasing international competition and more sophisticated passengers. We have done so by adopting a global outlook, setting up in China in 1997 and in Vietnam in 2003, among other global offices. An international presence brings advantages in pricing, quality management, product options, and worldwide support. It enables us to stay ahead of the curve and collaborate with brand partners worldwide.
Sustainability is the new challenge; consumers are shifting to modern millennial brands and the eco-conscious lifestyles they stand for. That's why we work closely with airlines to offer many sustainable, eco-conscious items.
The U.S. market is also unique in how fast trends come and go. We address this by being at the epicentre of brand development with our HQ in L.A. and Brand & Design Studio in New York City.
Smart brand collaborations are the name of the game. Our ground-breaking Casper bedding programme for American Airlines gained much media exposure and we recently also launched a modern amenity kit programme for American Airlines featuring up-andcoming brands like This Is Ground, Allies of Skin, STATE and Baxter of California. We will reveal other exciting brand collaboration programmes at IFSA/APEX this year.
Our creative team works hard to be agile and responsive with new ideas
En Route International is upping its focus on design and creativity. Richard Wake, creative director, explains the investment in studio services.
En Route is, first and foremost, a provider of food solutions and an innovator in that space, but to add an extra level of value, we're investing in our in-house team of creatives and marketers who work with our product development team to bring new ideas to market fast.
Providing a dedicated space and investing in cutting-edge equipment will enable the team to provide a highquality rapid response to product enquiries. The team is made up of product and packaging designers, branding and graphics experts and illustrators. They design all our product packaging, branding and marketing.
The studio will support our policy of responding quickly to requests from anywhere in the world, and will help us get under the skin of an onboard service, to improve efficiency and save costs while adding value for passengers. The studio will also be a great way for customers to try out new service concepts as we can easily produce working samples in-house to run product reviews and small trials.
The creative team works alongside our marketers who gather and analyse market and consumer trends, producing invaluable insights. We draw a lot of inspiration from parallel markets, such as retail food-to-go and beyond. We've recently been looking at the cosmetics and fashion industries, for example, which provide windows into consumer behaviour and different ways to tackle operational and product challenges.
For me, design in our field is all about adding value to an onboard service above and beyond what the food can achieve by itself. It is about considering all the elements that come together to create that service and improve the overall experience for everyone who engages with the product – manufacturers, packers, logistics, caterers and ultimately the cabin crew. How easily they can engage with and serve the product onboard is a key design consideration.
To achieve this kind of design, teams need to have the right experience and market insight, and the ability to work with all stakeholders right through to the product or service supply chain, just as we did with our cheese solution for Emirates. This design-led project drew expertise from right across our business, really pushing everyone to try something new. It created a unique way of packing, distributing and serving cheese onboard that has created benefits throughout the supply chain.
En Route won the Onboard Hospitality 2019 Best for Onboard Snacks award for the Emirates premium cheese service.
Special meals,try before you buy
Marc Warde is a coeliac and a chef on a mission to make hospitality buyers think twice before they buy below average special meal offerings for onboard.
Calling all airline buyers. It's time to try your special meals inflight before you buy them. Giving free-from passengers utter crap is just no longer good enough.
Years ago people ordered a special meal believing it would be better than the standard offer. Newsflash: Not any more! Often when I get my special meal I look across the aisle with complete envy at the standard meal, wondering: 'Why couldn't I have had that?'. A 'one-does-all-solution' makes me grumpy, and a 1970s salad of lettuce, cucumber and tomato is just depressing. The main event is often dry, and while I have had some decent fish, the carb element on a recent flight was a very questionable green (peas/mash apparently) and surely full of food colouring. When dessert isn't just a fruit salad, I admit I get a little over excited but the last 'brownie' I was offered tasted of charcoal and carob and actually made me retch! It really made me question whether any buyer had ever actually tried it.
Join the campaign
So, here and now, I'm starting a one-man campaign to change that ghastly freefrom experience by calling on everyone selecting special meals onboard to eat one themselves – on a long-haul flight and not in a tasting room. I think that will get the message across more than any social media post or customer complaint.
I cannot tell you the number of flights I take that still offer nothing other than a packet of crisps (chips) or a dodgy brownie (long-life/ very dry), and not a lot else for those with dietary needs. In 2019 this really isn't acceptable, and if that makes me sound a bit entitled remember it's now me and 20-25% of the population that either choose or medically require a special meal. Offering them nothing to buy inflight just isn't on. In supermarkets we now get a whole free-from aisle!
Airlines do now pay attention to F&B, partnering with high-end restaurants, celebrity chefs and top brands. They know food matters but seem to forget that includes the many with special requirements. Please let's make the options current and delicious for everyone. I know from my own business this is completely possible with just a little thought and perhaps some understanding of the food science.
A new kind of glamour coming back to travel
A stellar inflight career won Sarah Klatt-Walsh our 2019 Lifetime Achievement Award. Here she shares her optimism for the future
When I started my career in the mid-1980s, Michelin chef Wolfgang Puck said: "To me, an airplane is a great place to diet". Airline travel was very different – expensive with a touch of glamour, and despite Puck's opinion, the food was very good. Tableside carving in First, and Economy meals served in chinaware with real glassware and cutlery. You could even smoke after the meal!
Fast-forward 30 years and the onboard experience has changed dramatically. The first major changes occurred in the 1990s and early 2000s with the introduction of low-cost carriers, cut-price tickets and fuel cost hikes. Airline budgets got tighter and buy-on-board was introduced. Airlines sold off their catering subsidiaries, and/or began to outsource to caterers – changing the relationship to a more formal 'clientsupplier' basis. It enabled caterers to expand globally, and challenged them to improve efficiency with programnes such as Make or Buy and LEAN/Kaizen. New F&B and equipment suppliers emerged, resulting in a more diverse logistics and supply chain.
Meanwhile, airlines focused improvements on the premium classes. Beds in Business, screen sizes grew, and the number of movies offered increased. Star chefs created menus butb Economy passengers felt the squeeze – tighter seats and meals served in plastic. The glamour of flying was gone, at least in the back of the plane.
The past 10 years has seen the influence of major trends – from marketing partnerships and social media to health and sustainability, digitalisation and personalisation.
Technology and the connected aircraft are changing the way people travel – and how the catering industry functions. Pre-order, wifi on board, cabin crew digital tools, virtual reality, and data analytics are tools now being used to tailor and enhance the customer experience.
The flight of the future will take those trends to the next level. Preflight, flight, and post-flight activities will be fully connected, and fully personalised, to offer maximum choice, and opportunities for a connected, cultural and sensory experience long after the flight has landed. That future is not too far off… bringing a different form of glamour back to travel. Happy landings!
Creating service that customers will want to rave about
Delta Air Lines is redefining the inflight dining experience. General manager F&B, chef Christian Hallowell explains just how.
I work with a team that is focused on creating an onboard service that reflects what our customers have come to expect in their favourite restaurants. To do this we have established meaningful partnerships across our network.
In addition to working with our 160 catering kitchens around the globe, we now partner with consulting chefs such as James Beard honouree Linton Hopkins out of Atlanta; selected chefs from Danny Meyer's Union Square Hospitality Group out of New York; and chef duo Jon Shook and Vinny Dotolo out of LA; plus Chinese chef Jereme Leung and Japanese chef Norio Ueno. We also partner with master sommelier Andrea Robinson.
Our menu creation is a collaborative process from start to finish. No matter which mastermind is behind the menu, choices rotate with the seasons so that even our most frequent flyers always have something new to try.
We know customers value having control over their inflight experience. One way we have been able to deliver on this is with our pre-select meal programme, which gives customers the peace of mind that their first meal choice will be available onboard.
Following rave reviews of our initial pre-select programme, we have extended it, bringing the number of daily eligible flights to more than 1,000.
Customers receive an email three days before their flight asking them to pick their first choice meal. It is helping us to better understand customer preferences and shape our culinary offerings of the future.
In November, Delta will debut its new Main Cabin experience on international routes – a wholly reinvented international experience featuring free welcome cocktails, hot towel service, mix-and-match options for premium appetisers, and larger entrees.
These changes are about investing in every single customer no matter where they sit on the plane. The extra touches have been designed by flight attendants with one goal in mind – delivering an exceptional experience that our customers will rave about and one that our team is proud to deliver.
Airlines, caterers and suppliers must recognise they are a collective
Out-going IFSA president, Paul Platamone, sees this year's EXPO as an important milestone for the industry.
This year's IFSA EXPO in L.A. marks an important milestone as the organisation builds its connections with APEX and seeks new ways to promote airline, caterer and supplier collaboration.
I believe airlines are as dependent on caterers as caterers are dependent on airlines so we want to create positive opportunities for airlines, caterers and suppliers to recognise they are a collective. We all need to be around the table together as we prepare for the future. Appointing Joe Leader as joint ceo of IFSA/APEX was a key strategic decision and I am thrilled that we have now achieved the full realisation of the APEX/IFSA partnership and are all under one roof in L.A., with AIX too.
Our governance lines up now so we work and think collectively. We are solid and the EXPOs will reflect that. We have good support with over 185 exhibition booths sold and opportunities to suit both three-day APEX and two-day IFSA attendance. This sort of initiative was a driving force in our development, and the sub-text is that our two organisations now walk in lock-step. Increasingly we will find ways to align without alienating the members of either organisation.
We now have a Board of Governors that we collaborate with to choose our speakers and new initiatives. All initiatives are supported by that board and the airlines they represent buy into the programme from the outset. This helps galvanise airline involvement and encourages strong participation.
Doug Parker, chairman and ceo of American Airlines, has been chair this year and Ed Bastian, ceo of Delta Air Lines, will become chair going forward. Our goal is full airline engagement from C-suite down so people understand why they should engage with this event.
We have consolidated our awards too, and invested in our government affairs activities. The regulatory demands being placed on us are huge and after last year's conference we added an Enhanced Government Affairs Steering Group, building on the many technical skills of the well-established Government Affairs Education Committee, and increasing its advocacy abilities. It's a higher level committee which will work with retained counsel and pro-actively promote our industry.
Jim Ball, vice president of sales & service at Flying Food Group, will become president at the end of the conference.
LEVEL plans a step change in the customer experience
Startup low-cost airline LEVEL has grown rapidly since it was established in 2017 within International Airlines Group (IAG). FTE spoke to LEVEL's chief commercial officer (CCO), Aurelius Noell, on how the airline is taking advantage of the strategic synergies created by its parent company, and what plans it has in place to transform the passenger experience.
IAG advantages
LEVEL was born from IAG's desire to build a world-class portfolio of brands that not only target specific geographies, but also target specific customer needs. LEVEL was created to target the long-haul low-cost segment of the market, which has a different set of needs to other segments.
Being part of IAG enables us to focus on creating a low-cost and agile startup mindset but using IAG's common services platform including procurement, IT, finance, MRO, cargo and digital. It also enables us to draw on skills and capabilities from around IAG.
Tech focused
We have our focus on the customer who determines where and how we invest. Whether it's making LEVEL easier to book, improving the airport or inflight experience, or getting in touch and solving issues. Offering a solution across multiple channels, meaningful for the traveller, that's where we will use technology and create new processes.Further work is underway in the booking and pre-journey segment to give passengers more control through our digital channels. In the next 12 months we'll be rolling out a new website, app and new features to customise journeys with an increased range of ancillaries. We're also rolling out best in class chatbots and customer communication tools in the event of disruptions.
Disruptor brand
LEVEL challenges the perception that an airline needs to be a single integrated business including strategy, commercial and the operation. The core LEVEL team is the strategic and commercial heart of the business, but we outsource the operation to the lowest cost production capability in a market. We run each of these markets in a different way. In France, we own a production unit called Openskies, which operates our long-haul flights from Paris Orly. Our flights from Barcelona are operated by Iberia, whilst we retain commercial and customer ownership. In Vienna and Amsterdam flights are operated by Anisec, a subsidiary of IAG, under a brand license agreement with LEVEL.
Retail innovation
The speed at which LEVEL has been established is definitely our biggest innovation to date! LEVEL went from board presentation to selling tickets in just a few months – it's a clear demonstration of IAG's ability to get things done quickly – and last year we established LEVEL Austria in less than three months. This has meant LEVEL and all areas of IAG doing things differently, with a focus on speed, agility and rapid decision-making. Our key achievement has been onboard at this point. Our onboard retail portal is a big step change to the customer experience. It enables passengers to choose items from our onboard food & shopping menu whenever they like and then pair their mobile devices to complete payment quickly and easily. This changes the dynamic of the customer experience, giving customers control on when they interact with us.
Future initiatives
We are working with world leading, highly innovative startup and established companies to create a more personalised experience at our customer touch points. This will involve all areas as it is key to a personalised customer journey to break down barriers that exist today.Over the next 12 months we have a significant number of projects that will deliver improvements to the passenger experience. Some of these the passenger will see, such as improvements to our on-board catering product, increased range of ancillaries that will be offered based on personal context, smoother, faster and more efficient disruption handling and an easier purchase process. Other areas involve revenue management where we are working on nothing smaller than testing a new approach to a decades old process.
Connected systems
LEVEL has worked with IAG's in-house connectivity systems supplier 'IAG Connect' since the very start of its operation. Our IFE and wifi systems are integrated and passengers are able to connect their personal devices to our seatback screens to browse and order from our inflight catalogue at any stage of the flight.
Startup partnerships
We are working closely with IAG on innovations and have already engaged with various companies which came through Hangar 51 such as Volantio, for example. Having early access to these companies gives us a clear advantage in the market and is one of many synergies we have, being part of a big group.LEVEL itself is a startup, and we have the culture and ways of working that many external startups have. We work with startups because they tend to share the same values and culture that we do, which is a desire to deliver quickly and an acceptance that not everything will be perfect on Day 1.
Ambitions ahead
We are taking delivery of another factory-new A330 at the end of September, we just launched a new route from Barcelona to JFK and at the end of October we will inaugurate a new service from Paris to Las Vegas. So we continue to grow fast. There will be new route announcements coming for 2020 so stay tuned. At the same time we are making sure the foundations are right to scale up growth and delivering the customer experience that our passengers expect is key.

This article was originally published by Future Travel Experience
Marian Fagbemiro predicts tech innovation
Marian Fagbemiro, global vp gateretail, predicts how tech innovation will increasingly enable airlines to maximise their retail sales
Technology and data are at the heart of everything we do, enabling a more relevant, engaging and inspiring passenger experience whether before, during or post flight.
Our eCrew digital platform is now live with two airlines on two continents and going well. Working off an iPad or iPhone, it is highly intuitive, showcases promotions and also delivers dynamic inventory information to the crew, as well as acting as their ePOS tool.
Maximising sales
Our job is to enable cabin crew to maximise the retail sales opportunity onboard within the space-constrained environment, while also using 'Big Data' to deliver accurate information on what passengers are buying, when, where and how. This includes sales onboard, or via pre-order to the aircraft or elsewhere. And eCrew is just the start.
Phase two – ePAX is next, allowing passengers to access an omnichannel inflight marketplace for purchasing food and drink, online boutique shopping, tickets for onward travel or event tickets. It's an exciting development!
Then will come eTools, phase three, a system which allows crew and crew management to perform multiple tasks in real time, automatically sending data so retail programmes evolve using both real, historic and predictive insights.
Supporting crew
Crew LMS – Learning Management System – will also be key through our Gate Crew Academy. It's a modern industry-accredited learning resource offering flexible and modular multi-media and role play training, with certification through the European Credit Transfer System.
Future scoping
We believe a dedicated inflight category management tool will be the next big leap forward for the industry so we're developing just that, drawing on expertise from grocery retail and FMCG (fast moving consumer goods). New technology is opening up new channels and it's vital to be at the forefront of that work. We are working with Black Swan to use data and technology as our enabler, and we're seeking partnerships with other players where we can create obvious advantages for our airline customers.
Fabio Gamba talks airline catering
One year on from his appointment, Fabio Gamba, managing director of the Airline Catering Association (ACA) looks to the challenges ahead for airline catering
As an industry we are all keen to serve better and tastier food while maintaining high safety and security standards. We all want the industry to be sustainable and reduce waste, but how? Increasingly it seems the answer is clear: we must avoid a race to the bottom – where there are no winners – and begin a race to the top focused on quality and high standards.
Enjoy your meal
With passenger numbers projected to double in the next 15 years, the demand for high-quality food will increase. Airline catering will always be more challenging than preparing fresh food in a restaurant. However, our industry has shown incredible adaptability, rising to this challenge and consistently outstripping tired expectations of airline food while mastering many of the logistical challenges this entails. I am convinced we can improve the passenger experience further in all cabins.
Reducing waste
Every year millions of tonnes of cabin waste are produced. Airline caterers have made significant progress towards reducing waste and single-use plastics wherever possible. We have already taken decisive steps towards recycling and reusing materials in a closed circle. Becoming truly sustainable as an industry will continue to be a big challenge over the coming years though. And in doing so, we also need to be careful that waste reduction does not lead to unintended consequences such as higher aircraft emissions, when heavier substitutes are chosen. 
A fascinating business
Serving food to billions of passengers above the clouds is a fascinating business and much more complex than it may appear. We relish this challenge and with the creation of the ACA last year, the industry is now able to speak with one voice.
Airline caterers have specialised in this exciting market and are constantly pushing the boundaries of what is possible at 35,000 feet. That's why the industry wants a race to the top: it is time to raise standards and to offer every passenger a truly memorable food experience.
Robin Padgett talks culinary quality
Robin Padgett, vp dnata catering, turns the spotlight on culinary quality as the route to growth and industry-wide success
Airlines are investing in food again! Food and beverage has become a differentiator, with flying becoming an experience once more, not just a seat. There's been a structural shift – catering is no longer just a cost, it's part of revenue generation and of a great product.
his suits our philosophy perfectly. We love food and want customer airlines who love food too. Great culinary is the thing that gets people talking and all our developments have culinary at their heart. Asia and the Middle East always valued this approach and now it's coming across Europe and the U.S. too.
Green-field freshness
Our Dublin kitchen was a first for us – a green-field site developed from scratch. We used the process to renew our intensive focus on culinary. As an industry we need to freshen up airline catering, and a new-build is a great way to establish priorities and test concepts really can work in truly efficient units. The same applied with our move into Canada on a green-field site at Vancouver airport – a proper fresh food kitchen staffed by proper chefs with all the culinary skills needed to create great products. The coming year will bring similar projects and more consolidation – the industry needs more of that.
We have to remember we are all in the food business and culinary has to come to the fore – that is where airlines can have the most fun and make real impact. Increasingly airlines do want a one-stop shop, one caterer worldwide who can ensure consistency and global quality. That's certainly easier to do from green-field sites, as you can set the tone, the culture, afresh.
In the U.S we believe airlines will look to secondary airports for growth such as in Nashville where we have a new chef-led unit for British Airways with a strong culinary push.
Personalisation too, is a trend that is here to stay – it's good for satisfaction, revenue and cutting waste.
Supporting talent
Bringing on culinary talent is essential and we now have 30 apprentice chefs across the dnata network, learning to be creative and push the boundaries. As an industry we have to give talent the chance to grow.
Stephen Templeton talks culinary creations
Stephen Templeton, dnata catering's new global head of culinary, talks grand ambitions and contemporary style
I 've come from a restaurant and event hospitality background at Rhurbarb in the UK, catering for VIPs and celebrities who always expected us to be at the forefront of trends, innovation and style. Now it is time to bring that level of contemporary high-end catering to the airline world.
It's time to move away from that chicken and beef staple and bring cool, contemporary no-fuss food onboard where simple, quality, seasonal ingredients become superstars, presented with a wow factor that makes the meal a key reason to book a specific flight.
Creating a dnata DNA
I started working with dnata Catering as a consultant six years ago, feeding the high street demands and trends we saw at Rhubarb into the operation. Now the goal is to take that a step further. With an ever-growing network of 65 catering locations across 13 countries, the biggest challenge is to create a global culture that everyone connects with and understands, plus clear goals and a way of working which every member of staff can identify with and which supports a specific dnata Catering style. We are creating a dnata DNA which will be recognised as our hallmark worldwide and the quality of the food will be at the heart of everything.
On trend
Chefs become chefs because they like to cook and want to be creative with food. They want to be proud of what they produce and that means buying great seasonal product and working with it in exciting ways. We will support them in that completely, empowering them to respond to cool culinary trends such as smoking, sousing, drying and pickling. In the wider culinary world everyone is using these techniques and airline caterers must apply modern twists to their offer too.
Special meals
The issue of special meals is massive. On a recent flight out of Dublin, over 60% of the passengers requested a special meal. For too long airlines have had this trend on the back burner and seen it as a nuisance but these lifestyle eating choices are here to stay and we have to embrace them, create libraries of dishes that work, and present special meals so they look as good as any other meal. We will draw on the undoubted talents of the team and in a cut-throat market present the most exciting and innovative choices onboard.
Daniel Kerzner talks investment
Our new A330-200s will all be retrofitted throughout with a new look and feel for all cabins – Upper Class, Premium and Economy. As well as 'Virginising' the new aircraft this investment allows us to open the door on future enhancements so we have been looking at and designing for the future onboard customer experience.
Always connected
These day Personal Electronic Devices (PEDs) have become a permanent extension of our customers and a connection to us. The digital experience is therefore at the forefront of the work we are doing and is likely to be so on our A350 aircraft too next year.
As we think about connectivity we are also thinking about how it affects our crew. By giving them tablet computers we can provide them with more, easily-accessible information which enables them to create a more personalised service experience onboard. For us, it's not about monetising the experience but enhancing it overall. We are constantly updating the crew apps and we are looking at what new functionalities we can add. For us though, the 'Virgin Magic' happens through the crew themselves so the technology has to support them.
Suite success
On redesigning the Upper Class cabins some attributes had to be there as a baseline including lie-flat seats, all-aisle access, wifi and IFE, which were then overlaid with Virgin's own new design narratives and developments. We have, for example, created three types of suite: Love Suites, Corner Suites and Freedom Suites, so we can offer customers a seating arrangement that best suits their needs whether they are travelling with a partner or want privacy.
Onboard 'magic'
Airlines have to differentiate their product and we're now seeing people travel with us because they're getting something they won't get anywhere else. We're looking at how people spend their time onboard, how they use their space and then we're adapting the offer to suit those activities. When you walk onto a Virgin Atlantic aircraft, you know it's different to other airlines. The investments go to create that unique environment – it's a combination of elements that create the passenger experience – design, IFE, food and crew
Gerard Bertholon talks food waste and flavour
The U.S. Department of Agriculture estimates U.S. food waste to be about 30-40%
of the food supply. Most food ends up in landfills and much of it is fruit, vegetables, roots and tubers.
At Cuisine Solutions we are challenging this, especially the waste of the parts of fruits and vegetables that are normally thrown away. We have developed an extraction process in which we cook the peels, leaves, husks and seeds using the sous-vide technique at a low temperature, for a long time. It extracts the flavours and produces a very pure product that retains all the natural minerals and nutrients. We then cryoconcentrate.
Cryoconcentration is the process in which water and solids are separated during freezing. Dr. Bruno Goussault started experimenting with the technique several years ago and has trained numerous chefs in it worldwide including three-star Michelin chef Yannick Alleno, who is using it for 80% of his sauces. He takes a traditional French sauce and using extraction and cryoconcentration makes them tastier and healthier by using less butter, sugars and fats. You can use 100% of the cucumber. The peels, seeds and the inside all have a different taste. You can make a sauce or a dressing and add cryoconcentrate at the end to add flavour.
Most recently Thomas Keller and Daniel Boulud brought their chefs to Cuisine Solutions' Culinary Research Education Academy (CREA) in Washington D.C. for training by Dr. Goussault. We work with over 140 fruit and vegetables including corn husk and hair, onion peels, artichoke petals, mushroom caps, celery peels, carrot peels, cucumber peels, clementine, blood oranges, tomatoes, beet skins and fennel. The process creates healthy sauces because we retain/preserve minerals and nutrients through the freezing process and using it in a sauce can intensify flavour without the need to add fats or sugars, so the result is low calorie but an amazing flavour.
You can taste the freshness and can actually get more flavour from the peel than the centre. The peels and skins also hold many of the nutrients and minerals. Mixologists are starting to use the technique to add flavour to cocktails.
In the air, people say food loses its taste. We believe that with cryoconcentration it is possible to elevate the dining experience for all passengers.
Peter Rebelo Coelho, LSG Group, talks rail
The rail market in Europe is set to open up in 2020. As a result, each rail operator will need to reassess and re-evaluate its strategic positioning in a decidedly more competitive marketplace. In this new environment, the customer experience, which includes both the complimentary and retail onboard catering, will undeniably become an even more important key differentiator.
Many already recognise that a new service concept can add value to the customer's experience and see the advantages of working with catering specialists to develop these. They can draw on our capabilities in concept and menu design, catering, logistics and end-to-end IT to enrich the passenger experience in all classes, at the best value.
See you at InnoTrans
This year at InnoTrans our slogan will be: "Indulge your passengers with an enriched customer experience". We will demonstrate our capabilities as an integrator but also showcase the new Evertaste division launched earlier this year, offering packaged products and convenience-food solutions. This range of ready-to-eat products is a way rail operators can access creative food solutions made to the highest global standards, in any temperature range.
Innovative concepts
Like airlines, rail operators are looking for new innovative onboard concepts designed to cost, and our long experience in aviation helps put us ahead of the game in terms of understanding market trends, needs and demands of travellers.
There are significant differences in the operative requirements of the rail and air sectors, but at their core both are focused on enriching their passengers' onboard experiences.
Rail growth
We see the rail market as one of the growth areas for our business, especially in Europe. With our knowledge in this field and our expert brands for developing catering and hospitality, equipment, packaged products and onboard retail, we are well equipped to help and excited to customise concepts according to the rail operators' needs. Increasingly it will be about that need to differentiate the offer, in an increasingly competitive market.
LSG Group will be promoting itself from Stand 324 in Hall 1.1
Onboard Hospitality will be working in partnership with the International Rail Catering Group to run the inaugural Onboard Hospitality Forum – Rail, during the InnoTrans.
Getting the wow factor
Gategroup is going back to its roots and focusing on food. Gottfried Menge, vp group culinary excellence, explains how people are key
We're linking culinary excellence with operational excellence by investing in people and equipment.For example, Gate Gourmet is now working with state-of-the-art ovens from Rational and holding workshops so that our chefs really understand the potential of the technology. It's not just about putting the food in and pressing a button, we can programme these ovens to work for different needs and we've even worked with Rational to develop an app which allows us to see the performance of our ovens across the world.
As proud as we are to be implementing this fast-moving technology, Gate Gourmet is still a people business and we are investing heavily in our staff. We've hired new chefs across all regions, even recruiting from the Michelin-star field – chefs like Dennis Pochert, the youngest ever Michelin-star chef in Switzerland, who is now working on menu development in our Zurich kitchen. As well as an executive chef in every region we now also have an operational executive chef who is responsible for managing the overall process.
Awareness through training
It's hard to control what happens once our food is onboard but by hiring the right people and working with crew to help them understand our meals we can produce what people expect these days, a restaurant experience in the sky.
We hold crew days and workshops where chefs create and explain the food in front of them. Any waiter is proud to serve food if they are empowered by knowledge about it.
We must not punish those who cannot afford First! Don't serve a tray with 15 items which add up to nothing – you have to create wow factors and make dining onboard an experience. At Gate Gourmet we aim to create meals with atmosphere.
Be brave
The airline industry is vulnerable so risk taking is not common but we will never be scared of making changes and moving forward. The Absolutely One concept for LATAM was uncharted territory – bringing a one plate restaurant-style concept to its long haul Economy – but this went on to win the Onboard Hospitality Awards Catering Innovation award this year.
This is just the start of a journey. We have exciting and creative management and culinary is back at the forefront of what we do – it's in our DNA
New horizons En Route
Following the retirement of Alison Lessmann, founder of En Route, new md Robert Dalboth looks ahead to new opportunities and trends.
It's an exciting time for our industry. The quality of everything the industry does has increased and we are seeing an upswing in requests for real innovation and choice. Airline catering budgets have become slightly bigger and suddenly price isn't the first thing buyers talk about.
There is a new interest in regional products, provenance and sustainable packaging. This all adds complexity to onboard programmes but complexity is what we thrive on! The lines are blurring between cabins too. The Economy passenger of today may well be in Business tomorrow and wherever they sit, they increasingly expect to be surprised and entertained by the onboard offer. They want it to come with a real sense of theatre.
Can do culture
En Route is in great shape to respond to this change, largely thanks to the tremendous internal culture Alison always fostered. I believe in that too, having been a part of it for the past eight years and having seen how it enables the business to thrive.
En Route is known for its agility and a 'no challenge too difficult' approach, so looking ahead we will build on this, focusing more than ever on our products and on our geographical reach. We are pushing out across Europe, developing operations in the Middle East, Far East and Australasia, and building our footprint in the US.
Connecting brands
Product wise we will continue to focus most on what we are really good at – our bakery heritage, innovative cheese ranges, hot hand-held snacks and snack boxes.
Onboard retail is clearly going to grow significantly and a big part of that will be about bringing retail brands onboard. The consumer has confidence in brands they already know, and increasingly those brands are also keen to be onboard but they don't always understand the constraints and logistical demands. This is where our expertise can help both parties and ensure that big name brands, such as Kraft Heinz and Nando's, get onboard in a form which suits crew operations and galley requirements, maximises yield and is as environmentally-sensitive as possible. It takes time to align their needs and working practices but this is something we are keen to do more of.
We have ambitious growth plans and being part of dnata has helped us decentralise our model and accelerate our development. We are well placed to put our 'design-deliver-delight' mantra into effect.
Unstoppable trends with Federico Germani
Six months after becoming gategroup cco, Federico Germani tells us how the smartphone is driving catering into a new era, fast
The smartphone and the technology around it are giving passengers the power to better control their experience. That brings tremendous opportunities for airlines but also puts great pressure on the final mile of the catering journey.
Technology will be a strong driver for the industry in the coming years, transforming the passenger experience. We are investing heavily in it by partnering, for example, with technology leaders Black Swan to help unlock the potential. We believe the opportunities are very exciting, not just in food service but in onboard retail and every element of buy-on-board logistics.
Unstoppable trends
The whole airline industry is undergoing a major technological transformation with onboard wifi becoming standard and growing demand from passengers for control and information throughout their journey.
But technology is not just about the passenger, it is integral to the success of the entire global supply chain. If you are increasing passenger choice and extending pre-order options, every touchpoint along the way must have the data and technology to deliver. There is no doubt pre-ordering 30 minutes before departure will be with us very soon for both Economy and Business. We will deliver on that thanks to our investment in data analytics which ensure accurate load predictions. The food won't be made in that last half an hour but the data will tell us long before what will be required.
Reality check
Having spent much of my career on the other side of the fence, within airlines (most recently LATAM), I did not fully appreciate until now the true complexity of airline catering. I'd visited kitchens and airport units of course but seeing the scale, performance, efficiency, consistency and true complexity of that last mile of the operation was eye-opening. The importance of a caterer being a true partner with an airline, sharing the same objectives, systems and integrated technology is absolutely fundamental to the passenger experience.
The opportunities available through true partnerships are immense. Now I fully realise the investment caterers such as gategroup make in their people, their world-class chefs, efficiencies and technology. These investments are all designed to support the airlines' passenger experience. Airlines should be very reassured at how advanced the thinking and investment is, it is this that will help them leap frog ahead and achieve the vision so many talk about of the personalised, connected passenger experience.
All change
Change is coming. Jan-Peter Gaense, Lufthansa Systems, predicts tech consolidations and the need for supportive partnerships
Consolidation is coming to the industry. There are too many providers doing the same thing for a market that is not limitless.
In the wireless IFE space, for example, in order to survive, you need something special. We've got great technology, lots of customers, and both Retail inMotion and Lufthansa Technik behind us to support our customers. In the past, we've lowered our prices to compete. I think that was wrong. With our resources, we can offer something special to customers in terms of strong technology and solid support.
Connectivity
As for the connectivity providers, looking at the statements they all publish it does not appear there are any profits to show so far. So I also believe we will see a consolidation in that area too.
Connectivity is the future of IFE, because onboard internet is the prerequisite for real-time communication, streaming live events and additional services from external partners. Connectivity remains our focal point and we are currently working with partners Inmarsat and Lufthansa Technik to install broadband internet on the short- and medium-haul fleets of Lufthansa, Eurowings and Austrian Airlines.
The BoardConnect suite: Portable, Classic and Plus won Best Use of Onboard Technology in this year's Onboard Hospitality Awards. The latest version 5.0 has a new user interface and open platform architecture which enables airlines to run their own applications and those of external partners through it.
Award winning
Passengers simply connect to the onboard wifi to access all of the connected services via a standardised user interface that can reflect the corporate design of each airline. Airlines have numerous options for integrating new offers and generating additional revenues because the suite is designed for fast and easy technical integration.
New customers for BoardConnect Portable include Virgin Australia, which is installing the boxes on its smaller regional aircraft. The airline was one of our first customers for BoardConnect in 2013, and is now upgrading its Classic systems with Gogo connectivity. We are also retrofitting 50 of Indonesian airline Citilink's A320s with BoardConnect, with connectivity by Inmarsat's GX Aviation. •
Is the trolley dead?
At any moment, 700,000 passengers are flying above our heads,
and with inflight connectivity we are now able to interact in real time with this population offering brands, services and targetted offers onboard. Shopping becomes part of inflight entertainment.
Passenger personalisation
But passengers won't buy products or services just because they have the time to browse online catalogues.
To be successful, the deals being offered must be attractive, exclusive and personalised to the passenger's profile as well as being available at a very competitive price. The challenge is how to achieve the best personalisation of the offers using the data airlines have.
Our solution is Inflight Shoppertainment.Any time passengers connect they find new, fun and exciting offers including: deals on products and services related to the zone, region or country the plane is flying over, a 'Group Buying' scheme, where the more passengers that buy the deal on the same flight, the better the offer and 'Flash Sales' available for short 15 minute time periods. The technology allows airlines to offer special offers over the duration of the flight in an engaging interactive way that a trolley service never could achieve.
Win win
Shoppertainment is a source of new revenue for airlines and accelerates the return on investment. And at the same time it's a great platform for brands and services to reach millions of passengers while onboard. It's fun for passengers and offers them great deals and exclusive products so it is a win, win.
It is futile to waste time on broad catalogues or large offers – airlines will never compete with Amazon or pure players, but instead they can invest on animations, commercial offers, exclusivity and merchandising. Inflight e-commerce must be thought of as inflight entertainment, it has to be interesting, dedicated and frequently renewed. You should have a different selection at every flight, every month and even every day.
SKYdeals is already deploying in Europe, the US and in the Asian airlines as well as working on cruise, rail and autonomous car solutions. Shoppertainment has a bright future.
<
In Conversation with Thomas Berti
Our target is to achieve global growth and make Spiriant a core player in the equipment sector, and we are well on our way.
This year has seen us implement a strategic new structure, where we now have game-changing product segment experts in each core area: Premium Experience, Crew & Service, Leisure & Smart Solutions, Onboard Comfort and Amenity Kits. The effect on our offering is incredibly exciting and transformative.
We have also been running cooperative workshops to better understand client needs and challenges, and engaging in an open forum to find solutions, even ahead of a specific demand fully emerging.
We don't know an airline's passengers better than they do but we do have the expertise in materials, technology, catering and design to bring new solutions.
A new dawn
The airline industry is being transformed with the growth of low cost carriers and new business models. Old paradigms are shifting and airlines are open to change and new suggestions – which is exciting!
A big trend is an intuitive retail model onboard and it's not just low cost carriers that want this, it's also premium carriers who are realising it is a necessity. As with any trend, it's crucial to get it right. Retail success means attractive products that are well-packaged and add value, this is essential if retail is going to work and really enhance the passenger experience.
Shifting concepts
The development of Premium Economy is another one of those shifts in concepts that is changing the industry. We can help airlines easily adapt to this by using smart materials and designs to create modular products which work across classes, building as you go further up the aircraft. We see a growing role for these pick and mix style solutions, they can save airlines rushing to develop a brand new Premium Economy line. For example, harmonising a tableware range to work from lounge to Economy to premium cabins could simplify processes, create cohesion and bring huge savings.
We also have to get wiser with technology. For example, our SkyTrack and SkyLoad solutions greatly help both the airline and crew. They help by defining the location of the products both on the ground and onboard to make life easier. At the end of the day, our aim is the airline's aim: to enhance the passenger experience.
In Conversation with Robin Padgett
Aviation is currently on a decent upswing, airlines are back and investing in product. There is new money coming into the market, lots of exciting change and some great opportunities.
At dnata we are excited about the future. There is a very strong desire to see culinary expertise lead in product development, especially in the U.S, and this is exactly at the heart of what we do. Our ethos is to build and develop facilities that fully cater all halal and Asian requirements as well as standard catering too. These are the niches we understand well and where we see key growth.
Aussie rules
Australia is currently a dynamic and exciting market. We opened our new Melbourne facilities late last year, combining three units into one, and now cater some 49 airlines across Australia. We are also in the process of rebranding all the Alpha in Australia facilities to the dnata name. We want to keep things simple. Everything we do, from culinary to retail, will be under the dnata Catering name.
Irish eyes
Our new Dublin kitchen opened in January. We're catering TUI and will add a major Middle East long-haul carrier there in May. We have had interest from six or seven other carriers too and see Dublin fast becoming a major base. The airport will hit 30 million passengers a year this year, it's an increasingly significant location. Our 400sqm facility is built around our halal and Asian cuisine specialism which we expect to be in demand from Chinese carriers in particular.
American dreams
We have been interested in North America for a while and are delighted to have won the license for Vancouver International Airport. We weren't particularly thinking of Canada but Vancouver has a strong Asian market and when we looked into it, it was a 
no brainer. Next will be JFK, for which 
we already have customers pre-signed, and then we'll look to further U.S. locations.
Asian ambitions
We are great fans of the Asian region. Asians love to travel and they love 
food – so do we, so we will definitely look to do more in Asia. We just have to ensure we extend our network at a sustainable pace. It's certainly an exciting time.
Drink it in
Air Canada's sommelier, Véronique Rivest, explains how to ensure your onboard drinks menu keeps up with changing tastes
Numerous studies have pointed to how our senses can be affected by the aircraft cabin environment. The altitude, drier air and noise can make wines taste less fruity, sharper and more tannic so it's important to look for wines with great balance.
Wines that are well made and harmonious tend to taste better in the air. I also avoid wines that are too high in alcohol which increases dehydration. Balanced wines, without too much oak, overripe fruit or excessive alcohol, are also less tiring and more food-friendly.
For every new Air Canada wine list I seek inspiration from Chef Hawksworth's menus. Overall food friendliness is a key factor in all wine choices and, wherever possible, the specific traits of a wine are matched to individual menu items. But the wines have to be versatile as menu and wine list changes do not always coincide.
I also seek variety so our five International Business Class wines are all from different countries and different varieties. Air Canada serves more than 200 airports on six continents so it's only right we reflect that. The world of wine is so vast and part of the fun is exploring and discovering new flavours.
Authenticity is key
Guests are not only more knowledgeable about wine but curious and willing to explore so I aim for a balance of classic and lesser-known wines and of course to include one of our great Canadian wines.
Authenticity and respect for the environment also play a major role so my preference is for wines that are a reflection of terroir rather than of very manipulative winemaking. Right now, we are featuring a chardonnay from Tawse winery in Ontario. It's one of Canada's top wineries, promoting organic and biodynamic farming, and produces quintessentially Canadian wines that we love to showcase.
And from the traditional southern French region of Cahors, the birth place of the malbec grape, we are featuring Le Combal from the highly-regarded Cosse-Maisonneuve, a leader in biodynamics.
Wine is increasingly important in the onboard offer, as guests' interest in wine is increasing. They ask more questions now and give more feedback. An airline cannot just offer a list of ho-hum wines. Consumers have become very discerning and we plan on keeping their interest piqued with a selection of high quality, authentic and diverse wines, which taste great onboard!
Focus on TRE³
Newrest has expanded its expertise beyond catering with a new retail, equipment and technology subsidary, TRE³. Julie Baxter talks to ceo, Pep Manich, to discover more
After more than 10 years as Air Europa's inflight service director and an extensive airline career in inflight service and customer experience roles, Pep Manich has hit the ground running as the head of new business TRE³.
The company's name is an acronym designed to define its activity: TRE³ is for TR (Travel Retail) and E3 (Equipment, Entertainment & Experience), and its mission is to bring onboard products, services, solutions and innovation to airlines and rail operators in support of established caterer Newrest and on its
own account.
Formed early in 2017, as an independent operation vertically integrated into the Newrest group, TRE³'s role is to add value through cost savings and business revenues, and to provide a 360º service to customers. It currently has three European bases: France, Spain and Netherlands, and a number of worldwide collaborations.
TRE³ will collaborate with Newrest to provide product development and innovation, and oversee the manufacturing of onboard equipment, new concepts and solutions. Its specialisms include buy-on-board products for retail, technology and digital products, media and training, with the option of a one-stop shop service.
Manich says: "We don't plan to wait for the customer to come to us, our goal is to anticipate the changing demands of the passenger and offer new and exciting solutions to meet that demand. Key to this will be our technology solutions which we will use in creative ways to support new initiatives and efficiency."
TRE³ is already advising on, defining and implementing new sales concepts for retail onboard, supporting airline BoB product management, sales analysis, crew training, marketing, digital delivery, media and POS tools.
TRE³ also brings expertise in rotable and disposable plastics, paper and carton packaging, chinaware, textiles, glassware, amenity kits, galley equipment, stainless steel and comfort equipment. It supplies all Newrest's catering consumables, packaging design and development and handling services.
Manich adds: "One of the key benefits of the group's structure is that our travel retail division can negotiate more strongly in the market and hence offer more competitive prices to customers. It is in the TRE³ DNA to conquer every challenge with a positive attitude, aptitude, ambition and skills."
Newrest sees TRE³ as the answer to future challenges, and TRE³ is determined to be just that."
Erdmann Rauer explains the launch of ACA
Following last week's launch of the new Airline Catering Association, its first president, Erdmann Rauer, discusses the association's aims and ambitions with Onboard Hospitality's Julie Baxter

Erdmann Rauer, ceo of the LSG Group, has been championing the idea of an industry association for some years. He admits: "It's been a long journey to get here," but as the wraps come off the new Airline Catering Association (ACA), it is clear his vision of a global organisation for the industry is now shared with the leaders of businesses which together represent around 85% of the onboard catering market.
Five leading airline catering companies: dnata, DO & CO, gategroup, LSG Group and Newrest, have stepped forward to launch ACA with a 'significant' but undisclosed investment committed to get the ball rolling. A non-profit international organisation, based in Brussels, Belgium, ACA will have its own managing director, Fabio Gamba, and aims to drive and develop strategic progress for the industry.
Rauer says: "Ours is a unique industry but has never really been organised like other industries in terms of having an industry body representing it for legal, regulatory or development purposes. From the front end perspective we are all dealing with the same type of customers and have the same challenges, so we have common interests on how our industry should look. This is something I have felt strongly about for some years and once the ceo of gategroup and other key partners became supportive, we came together in Madrid to discuss and progress the association in December."
ACA will hold its first Strategic Committee meeting on April 8, during WTCE when it will draw up its priorities. Rauer anticipates these will initially revolve around regulatory, taxation and security issues and joint operational concerns such as food labeling, invoicing and the like.
He adds: "The key point is that ACA will be a global association. We want to attract new members – but we also want to have a tight enough structure to ensure we have an efficient decision-making process.
"There will be a membership threshold of around 500m euros in global revenue but we will keep under review how we can add new members, both from airline-owned catering operations and associated industries covering tableware and amenities and the like."
The global aspirations of the association, will also see it reaching out to other established organisations such as IFSA. Rauer says: "We see a very big opportunity to work with the people of IFSA too with their obvious standing in the US market. The response so far has been good."
The association will seek to provide direction and leadership for the industry and Rauer concludes: "Yes, we are competitors and that won't change but we have to learn to work together on some levels as an industry. This is about leadership and it is in no way contradictory of competitors to come together for the greater good of their airline customers and the passengers.
"Just as I have long seen the importance of bringing all the big five businesses plus other entrepreneurs together at an annual show (WTCE), so too is it important that industry leaders have a vision and do something for the industry to give it shape. This has benefits for the whole sector, in particular for our customers, in the longer term."
Creative solutions
Stefan Patermann, ceo Retail inMotion, looks to the future as he tells us how his team designs retail and tech solutions for over 40 airlines
Retail inMotion has seen tremendous growth as a 360° onboard retail provider in the past two years. We are a young, agile company full of creative, ambitious, problem solvers striving to change how this industry works.
We manage fully-outsourced onboard retail programmes for some of the world's largest airlines. We are especially strong in Europe, where we work with over 50% of the continent's airlines, but we're moving into the Americas and Asia too.
In the short-term, we're focused on rolling out our software solutions and aim to stay ahead of the curve by creating game-changing technology, products and services which drive ancillary revenue.
One of our biggest challenges has been scaling up to meet the growth in onboard retail. Five years ago, we had only one customer, today, we're working with airlines on five continents. Our integration into the LSG Group has certainly helped.
Our key goal is to anticipate and meet the needs of the industry by combining strong, reliable solutions with agile and innovative software. We aim to solve problems in creative ways.
While there will always be a strong market for airline catering and culinary excellence for long-haul operations, we see a clear trend towards significant and steady growth in onboard retail in mid- and long-haul operation. In Europe, 67% of all air travellers receive an onboard retail service. Other markets globally are moving in this direction too, especially Latin America, the Middle East and Asia.
We focus on technology and product solutions that give airlines complete control over their ancillary scheme and reach passengers when and where they want to be reached. I firmly believe that the way airlines interact with customers will fundamentally change in the next decade. That's why we have started to deliver our end-to-end retail platform, connecting passengers throughout the entire travel chain to ancillary services.
We have also developed solutions like mobile payments, IFE/retail integration, comprehensive pre-ordering and reliable data collection that take the guesswork out of product selection.
It's impossible to deny the financial benefits of a well-developed, well-functioning onboard retail programme and I think that across the travel retail market, managers see that. Add in the personalisation and choice these programmes bring passengers and it's a win-win all round.