Nils Taubert, Chief Executive Director at Retail inMotion, spoke with Stuart Forster about his company and recent developments relating to onboard retail.

Nils' first contact with onboard retail was only a few years into his aviation career, at the time of the rise of Southwest Airlines and jetBlue. Since then, he's worked in multiple international assignments for the LSG Group ranging from process management to sustainability.
The full travel retail journey
Retail inMotion is the global market's leading onboard retail provider – the only one covering all bases from pre-flight to post-flight, 360 degrees. Looking at the industry landscape, it's an extremely competitive one, but when you look at onboard retail as a whole process, from start to finish, we've established ourselves as the partner of choice that can deliver on the full travel retail journey, end to end. It's a great pride for us at Retail inMotion to empower the best experts on the market and deliver the greatest of what's out there.
Our acceleration really started when we were acquired by the LSG Group, with the idea that our services would complement classic catering. It was also clear that there would be a need for better, greater onboard retail in the future, which the LSG Group recognised. That's our heritage.
If you look at the growth rates we're seeing in this industry over the past few years, onboard retail has essentially skyrocketed in comparison to the class environment. The move helped us prepare for the future.
Legacy carriers and onboard retail
Coming out of COVID, we saw very high ticket prices on the side of legacy carriers. Consequently, passengers rightfully expected quality, so there was a need for a stronger focus on NPS (Net Promoter Score).
That means competition coming out of COVID for legacy carriers has changed in a significant way. On the one side, they've had to turn to charging more for tickets, improving their onboard retail and charging for services that historically might have been free – but on the other side, you're seeking to elevate the travel experience and provide quality for your passengers.
That's exactly where Retail inMotion has perfectly come in to meet this demand. We're able to support and empower airlines to do this in the best possible way all along the onboard retail journey – including, for example, by engaging crew to better equip them to sell their products and services, by providing true market understanding in terms of procurement, or by improving sustainability which has become especially important for legacy carriers.
One part of our USP is having a portfolio that allows you to address all these needs, from the exercise of purely cutting costs to creating a premium image with an NPS in mind.
Coming out of COVID, we've also seen a steady growth in low-cost carriers and smaller airlines mushrooming around the world, and they have a completely different approach and needs. Here too, Retail inMotion has been able to deliver to cost-conscious low-cost carriers. Our people support the airline's ancillary strategy to more or less 'fly to sell', with the right high-margin, high-turnover product range.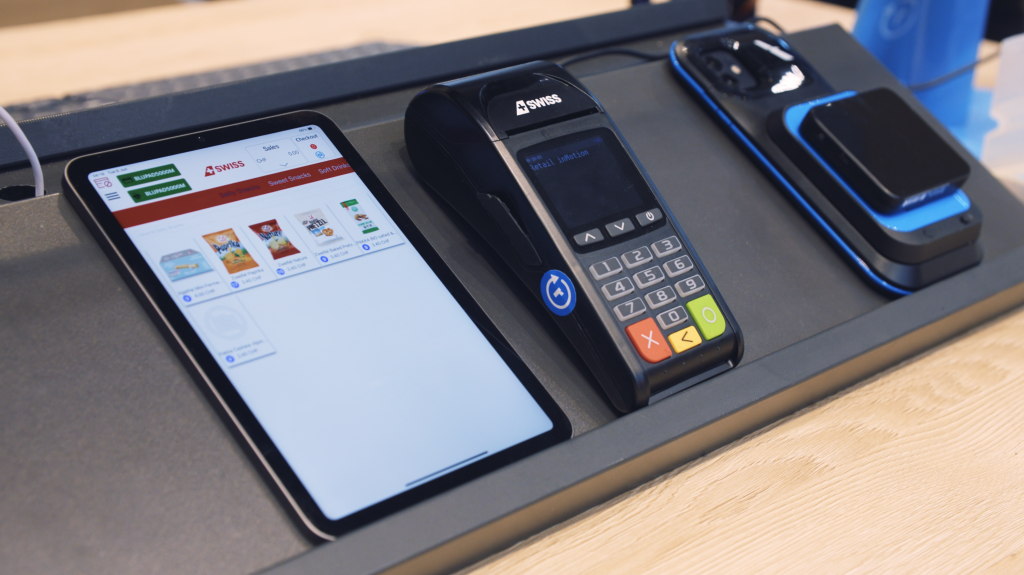 Growth areas in onboard retail
I personally believe interaction with customers on board is going to be a huge focus for many players. For example, the passenger's ability to use their own device or to 'order to seat' – where the customer can determine what they'd like to order in the cabin from their device – are going to be key areas of growth.
Ordering something and getting it delivered at home is no longer an innovation, but the segment of pre-ordering or even pre-selecting what you'll be served on board – those are new elements that can really make significant changes, including reducing waste or helping optimize loading patterns.
With COVID still in the rearview mirrors, we can say these are some of the key innovations we're looking at on the boutique side. Interestingly, we even have airports identifying these opportunities themselves and looking into partnerships there, how customers might be able to pre-order and pick up directly when they get to the gate or land at their destination.
All in all, I think it's mainly about looking into partnerships with all of these other experts out there who are providing tech solutions for our customers. That's a big field we're looking at because we can't do it all alone.
No one business on the planet can cover all of these bases. It's the age of partnerships for us. That's ultimately what will allow Retail inMotion to create a better service for the customer – be that the airline or the end user.
Onboard connectivity and retail
With inflight entertainment, even once you have Wi-Fi in the aircraft, bandwidth is still an important factor when streaming content that comes at a very heavy price and is not globally equally covered. For me, it's worth putting greater emphasis on how passengers can access entertainment on their own devices via a Wi-Fi network available onboard, which is something that we obviously also offer.
What I see as most relevant for ground connectivity is the entire credit card and payment verification process.
Unfortunately, the industry still deals with the issue of blacklisted cards, something that needs to be very carefully handled. This is something that Retail inMotion is seriously looking into. Our people address this complicated but key need by developing the current offline payment landscape in aircraft into online-capable solutions able to carefully handle payment methods – as well as information that's data-protected. You cannot underestimate the amount of effort it takes to manage offline payments and the risks attached.
Retail inMotion at trade shows
First and foremost, let's not forget we were entirely unable to meet physically barely three years ago.
It's been a huge learning for all of us and a much-needed reminder that meeting, exchanging and partnering up are really the driving forces of business. Trade shows are an opportunity for us to connect, talk about the future together, challenge each other, but also get direct feedback that we can then take away to improve our products. The APEX/IFSA Global EXPO and the World Aviation Festival happening this month are no exceptions.
It's also an opportunity to see our competition, to see where they are, understand how we measure up against each other and let them see where we are. That's a key takeaway for us because true innovation comes out of this spirit of competition.
Each of the trade fairs we attend attracts different stakeholders, different departments and different types of experts. At APEX/IFSA, for example, we'll be able to exchange tech-driven opportunities, showcase hardware and different solutions.
But it's important for our people to represent Retail inMotion at each of them because we cover the full 360 onboard retail journey.
Our portfolio can meet all of their needs, our experts can talk to all of these different segments – coding, managing auxiliary revenue, hardware purchasing and partnership creation. We've been making sure to show up, put in the work and take part in all those different conversations.
Measuring achievements
There are obvious short-term successes, like the number of visitors we've hosted at our booth. But the true, long-lasting success comes from the interactions that then lead to meaningful, strong business partnerships with our customers. There, it's important to note that during COVID, Retail inMotion has doubled its customer base, something we're very proud of. Part of that success lies precisely in that KPI of following up after a trade fair to extend that business relationship and delivering on the quality we committed to.
We see our success externally but also internally, within our people at Retail inMotion. Something we're extremely proud of is how we made use of the time during COVID to completely restructure and recalibrate ourselves, moving from a start-up character to a grown-up, established player, with responsible, scalable work methods. That's been key to helping our people thrive and empowering them to deliver to the best of their ability.
When considering our external achievements, it's undeniable that our products and services consistently winning prestigious awards is a big win for us. But still more important, in my opinion, is our exceptional ability to maintain remarkably high levels of customer retention.
It's a direct indicator of our core values of trust, reliability and the depth of our partnership with our clients. We pride ourselves on not merely serving as suppliers but as dedicated partners. It's not about focusing on one single customer contract: it's about seeing our attention to detail, our attitude, our commitment recognised and appreciated by our partners.
Developing in the near future
In the next year, we'll keep bringing in new services, coming up with new ideas and partnering with other experts to expand on our offers. I'm a firm believer that we can't do it all on our own. Instead, it's our ethos to bring people together and create networks who can work together to achieve our ambitious goals.

Creating strong partnerships takes time. In 2024, our main focus will be set precisely on that – including by improving our internal processes, refining our customer care and making sure our tech solutions remain established as market leaders.